Build Wealth and Achieve Financial Freedom
Hey there, savvy saver! Welcome to MoneyBucket.org, where we make personal finance approachable, fun, and just a little bit cheeky. Our mission is to answer your questions, help you navigate the wild world of money, from conquering debt to building wealth, investing, and managing money, all while having a good time along the way.
Money-Saving Apps & Tips to Fatten Your Wallet
Are you a sucker for a great deal? We've got you covered! Dive into our treasure trove of money-saving apps and learn how to pinch pennies like a pro. And while you're at it, why not explore our tips on how to save money on groceries, or saving money with coupons? After all, who doesn't love scoring a sweet discount?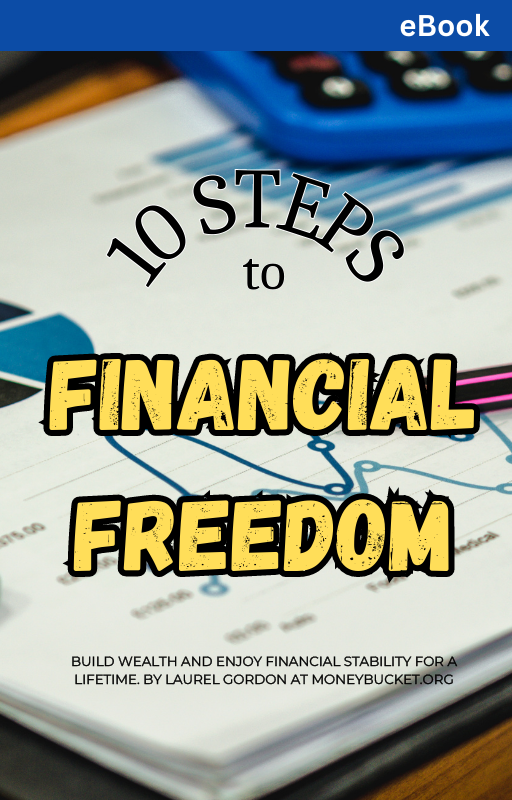 Download the free ebook 10 Steps to Financial Freedom by Laurel Gordon and get ready to get real about taking control of your finances.
Learn how to reduce anxiety about money, set clear financial goals, create a realistic budget, eliminate bad debt, build an emergency fund, save for the future, make wise investments to build wealth and protect your income, earn more money and maintain financial stability for life.
Budgeting: Your Financial Fairy Godmother
Think of budgeting as your financial fairy godmother, guiding you to make smart money decisions. With our easy-to-follow budgeting guides, you'll be able to transform your finances and live your best life. Need help sticking to your budget? Check out our advice on managing unexpected expenses and navigating the 50-30-20 rule like a seasoned pro.
Debt Management: Slaying the Debt Dragon
Is debt breathing down your neck like an angry dragon? Fear not! Our debt management guides will arm you with the tools you need to slay the beast and reclaim your financial freedom. Learn about debt consolidation strategies and how to create a rock-solid debt reduction plan to help you triumph over your debt.
Investing: Planting Seeds for Future Wealth
Ready to grow your money tree? Our investing guides are here to help you plant the seeds of wealth and watch them flourish. Learn the art of diversification in investing and discover risk management strategies that will have you dancing your way to financial success. Or learn the ins and outs of real estate investing and get started building your empore.
Retirement Planning: Building Your Dream Future
Dreaming of sipping piña coladas on a beach during your golden years? Let's make that dream a reality! Our retirement planning resources will guide you through the process, from determining your retirement needs to creating a retirement plan that works for you.
Earning Money: Unlocking the Secrets to Financial Success
Hungry for more money-making ideas? Our earning money section is packed with resources to help you maximize your income potential. Discover the ins and outs of the gig economy and learn the pros and cons of being self-employed. Unleash your inner entrepreneur with tips on selling online and uncover the secrets of bulletproof side hustles that can boost your bank account.
Risk Management: Protecting Your Financial Fortress
Shield your financial fortress from unexpected disasters with our risk management guides. Learn the importance of insurance for financial security, protect your assets with estate planning, and ward off identity thieves with our identity theft protection tips.
Credit Scores: The Key to Unlocking Financial Opportunities
Ready to boost your credit score to superhero status? Our credit score resources are here to help you soar to new heights. Learn about the factors that impact your credit score and unlock the secrets to building and maintaining a high credit score. Bad credit holding you back? Don't worry – we've got tips on repairing damaged credit so you can open doors to a brighter financial future.
Ready to Tackle Your Personal Finance Adventure?
There you have it – MoneyBucket.org is your one-stop shop for all things personal finance. Whether you're a money-saving newbie or a seasoned financial wizard, we've got the tools, tips, and resources you need to conquer the world of personal finance.
Finally, if you're interested in more unique and entertaining content, check out 10 of the stupidest bank robbers or explore whether we're suckers for infomercials or if DIY projects actually save you money — or cost you more.
So, what are you waiting for? Let's embark on this thrilling adventure together and transform your financial future one dollar at a time! Dive in for the latest tips, tricks, and advice on navigating the world of personal finance. So, strap on your money-saving boots, and let's get started! We can't wait to see the incredible financial transformation you'll achieve with MoneyBucket.org by your side. Happy saving!
---